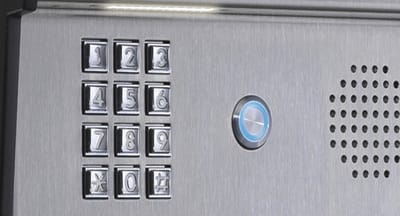 Intercom System Installation and Service
All our M&D technicians are trained specifically for intercom and security camera installation. They will evaluate your security needs and survey your business or home to recommend the right system for you. Whether it is the highly popular AM490, master to sub system, CP202SS, 142 or any of the advanced dial video intercom units, we'll make sure to find a system that fits both your needs and your budget.
Some consumers decide not to get an intercom system because they believe it serves the same purpose as a cell phone, but the new units are integrated with security camera installations and are far better than "ringing" someone in with a phone. Intercoms are generally not tied to the airwaves and are more private. If employed with a security camera, they allow you to view the person before granting access. Finally, they can be specially programed by a trained professional to meet certain disability and other needs that restrict usage.
Can you install an intercom system yourself?
We don't recommend it. These systems can be very complicated and if you don't know the difference between a sub-station, wall mount station, door station or intercom station, then you should at least obtain professional advice before doing it yourself.
The wiring of intercoms can be tricky as well. There are the older, but still popular two-wire party-line broadcast systems and the newer, four-wire matrix broadcast systems, which use four-wire circuit technology. The latest units even incorporate wireless technology, though they are a bit more expensive. Call us at (718) 484-4050 to find out more.
How do I get started with a new intercom system?
First, make an appointment with an M&D expert by calling us at (718) 484-4050 or you can submit a service request here. One of our technicians will meet with you to discuss your security needs and to survey the area to be covered. Based on this consultation, we'll make several recommendations that fit within your budget.
In most cases we'll have all product on hand to install your system as soon as you are ready. Once your system is installed, we'll recommend the best ways to get the most out of your system. We will not leave until you are comfortable operating your system on your own. Furthermore, should you have any concerns after installation, we are always available to answer any questions you have.
If you are happy with our products and service, then we hope you will write a review for us in any of the online customer review sites such as Google and Yelp. To get started, please contact us today at (718) 484-4050.
We'll get to you in 20 minutes or less.
24/7 emergency lockout service.
Transponder and remote access car keys are our specialty.
Broke your key in the ignition or door? No problem, call now.
No Keys? Well make you a new one—on location.
Mobile units in all 5 boroughs. There's one near you now.
The NYPD, FDNY and New York City Sheriff use M&D Locks and Keys.
All our locksmiths are licensed, insured and trained.
The Most Trusted Locksmith in the 5 Boroughs
We know the scams as well as the tarnished reputation the locksmith industry has received over the years, especially in New York City. M&D Locks and Keys has been an outspoken proponent of stricter locksmith laws and regulations. Never trust a locksmith that shows up in an unmarked vehicle and especially one that cannot produce a valid locksmith license.
We know trust is important. Our goal is to make you so satisfied with our services that you'll not only write a good review for us in Google and Yelp, but that you'll add our telephone number to your mobile device should you need us in the future.
We're contributing members of the New York community and are here to stay. We have two shops in Brooklyn and mobile units that patrol areas throughout the city. We're trusted by the NYPD, New York City Sheriff, the US Marines and countless New York businesses such as Armani, Sleepy's New York, Geico, the New York State Retirement System, Ted Baker Manhattan, Brookdale Residence and PM Pediatrics of Brooklyn as well as many others.
Mobile Locksmith and Security Service for New York's 5 Boroughs:
Manhattan, Brooklyn, Queens,
Staten Island and the Bronx.