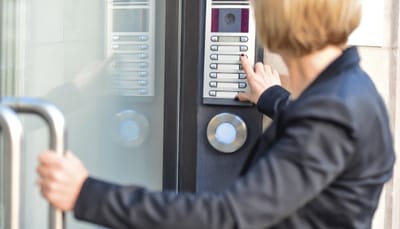 ACCESS CONTROL SYSTEMS FOR HOME AND BUSINESSOnly Use a Trained Access Control Professional
M&D Locks and Keys has a long history of installing and maintaining access control systems for New York City residents and business owners. By far, the largest demand comes from landlords and property managers of large developments and multi-unit properties.
Not every locksmith professional has the experience and training to effectively install access control systems. M&D locksmith technicians are especially qualified with the most advanced units and will be able to give you multiple options and recommendations based on your security needs and property specifications. They'll add superior security to your home or business using a proximity card, combination PIN, a biometric reader or combination of all three.
Combining Other Systems
It is common for home owners or businesses to request a combination access control unit with an intercom or security camera system. M&D professionals are trained in all areas of business and home security. We can custom design a system that is right for you and your family.
If you need security gates or doors, please check out our pages on this website for those items as well. If you have a security need that you feel is not addressed here, please call us at (718) 484-4050 and we will be happy to assist you with your custom security need.
Response Times

As New York City locksmiths, we have some of the quickest response times in the business. We are happy to respond quickly to your other home and business security needs as well, but prefer a little more time to prepare the right quotes and options for you. In either case, call us and we are happy to accommodate you in any way we can.
Call M&D Locks and Keys at (718) 484-4050 for more information or if you would like to get a quote on a new access control system for your building, please go to our service request page.
We'll get to you in 20 minutes or less.
24/7 emergency lockout service.
Transponder and remote access car keys are our specialty.
Broke your key in the ignition or door? No problem, call now.
No Keys? Well make you a new one—on location.
Mobile units in all 5 boroughs. There's one near you now.
The NYPD, FDNY and New York City Sheriff use M&D Locks and Keys.
All our locksmiths are licensed, insured and trained.
The Most Trusted Locksmith in the 5 Boroughs
We know the scams as well as the tarnished reputation the locksmith industry has received over the years, especially in New York City. M&D Locks and Keys has been an outspoken proponent of stricter locksmith laws and regulations. Never trust a locksmith that shows up in an unmarked vehicle and especially one that cannot produce a valid locksmith license.
We know trust is important. Our goal is to make you so satisfied with our services that you'll not only write a good review for us in Google and Yelp, but that you'll add our telephone number to your mobile device should you need us in the future.
We're contributing members of the New York community and are here to stay. We have two shops in Brooklyn and mobile units that patrol areas throughout the city. We're trusted by the NYPD, New York City Sheriff, the US Marines and countless New York businesses such as Armani, Sleepy's New York, Geico, the New York State Retirement System, Ted Baker Manhattan, Brookdale Residence and PM Pediatrics of Brooklyn as well as many others.