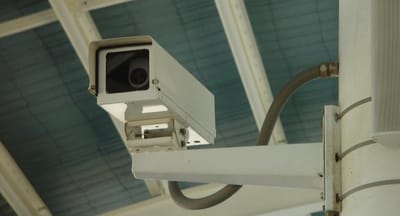 M&D SECURITY
More security camera equipment is installed in New York City than anywhere else in the world and M&D Locks and Keys does much of that installation. Below we've outline some basic information, but before you make a decision on a security camera system, give us a call at (718) 484-4050 and let our professionals help you determine the best system for your needs and budget. You can also email your questions to
brooklynmanhattanlocksmith@gmail.com
.

Why install a security camera?
Do you have a business that needs constant surveillance? Do you need to keep an eye on employees when you're not there? Or perhaps your need is the most important of all—protecting your loved ones at home from intruders or caregivers. From years of experience in the New York security industry, here are the most common reasons to install security cameras:
To prevent external threats from intruders such as break-ins.
To prevent loss from customer theft.
To help prevent fraudulent claims by employees.
To protect your family in your home.
To monitor babysitters, caregivers and household staff.
To observe activity on your premises.
To prevent a poor customer experience.
To keep a visual and historical record of activity on your property.
What are the best types of security cameras?
Today's security cameras can be activated by motion detectors, allow you to view live or recorded feed and give you the best resolution for night or obscured vision. There's a wide range of systems from which to choose and it can leave you a bit confused. M&D makes your decision easier by warehousing and installing only the best from Bosch, Sony and Samsung—that's over 300 years of combined experience in electronic security.
We install and service a full range of security cameras and electronic surveillance equipment from these experienced manufacturers. Types of security devices include monitors, CCTV systems, observation units, surveillance cameras, video switchers and control devices as well as both analog and digital recording systems.

Night Vision
With infrared technology, night vision cameras can catch almost any activity in the dark that your eyes cannot. These units are great for securing areas that aren't very well lit, but are vulnerable at night. You should never rely on cameras alone and should incorporate several methods for protection in the dark, but night vision security cameras can deter potential thieves and allow you to keep a close eye on sensitive and obscure areas.
Dome Cameras
Think "Eye in the Sky" in any Las Vegas casino, dome cameras are best for indoor use. They provide 360-degree visibility because they can rotate in any direction. We like that they don't blatantly scream "SECURITY CAMERA!" The look of these cameras are not intrusive and are rarely noticed, but provide the maximum visibility to protect anywhere and anyone in your home or business.

Network/IP Cameras

These cameras are the latest craze and one of our biggest sellers. They allow you to view live feed from your cameras from almost any wireless device, including your smartphone. Keep an eye on the nanny or caregiver while you're out to dinner or even in another country. They're best for securing inside space and can work with other security systems.
Outdoor Cameras
Also called bullet cameras, outdoor security cameras are encased within an ultra-strong housing, enabling them to withstand the harshest outdoor elements including rain storms and moisture, freezing temperatures and extreme heat. You may have seen these cameras outside of warehouses and shopping malls. If you have an outdoor area that is exposed to harsh elements, this is your camera.
Monitoring System
Keep in mind that security cameras do not work alone. You'll also need a monitoring system that will work as a standalone DVR unit for video feed or a PC DVR system that will work with your computer or other digital device. There are advantages to both and M&D Locks and Keys will advise you on the right monitoring system for your home or business.
At M&D Locks and Keys, we understand that choosing the right security camera and knowing how to use it can be a daunting task. We've helped thousands of New York business owners and residents choose and operate the right system. Give us a call and one of our skilled technicians will walk you through the entire selection process.

The Risk of Doing it Yourself
M&D technicians have years of experience installing security camera systems so your cameras perform at their best and will never fail at critical moments. Try to do it yourself and you can waste a lot of money on the wrong system. More importantly, your cameras can miss the very activity they were designed to capture if you get them installed by someone who is not an expert. Let the professionals at M&D provide you with a security consultation and estimate.
How to Get Started
Step One: Meet with the Pros
Call M&D Locks and Keys at (718) 484-4050. We'll begin by meeting with you to determine your security needs. We'll offer solutions that give you the security you require and yet are still within your budget.
Step Two: Provide Estimate
After our consultation, we'll put together an estimate based on your security needs. The estimate will include parts, installation and servicing.
Step Three: Installation and Instruction
We'll work with you to install your camera
s by placing them in areas you want protected. We'll set up your monitoring device for easy surveillance. Once installation is complete, we'll meet with you and any staff or family members to make sure you know how to get the most out of your new security system.
We'll get to you in 20 minutes or less.


24/7 emergency lockout service.
Transponder and remote access car keys are our specialty.
Broke your key in the ignition or door? No problem, call now.
No Keys? Well make you a new one—on location.
Mobile units in all 5 boroughs. There's one near you now.
The NYPD, FDNY and New York City Sheriff use M&D Locks and Keys.
All our locksmiths are licensed, insured and trained.
The Most Trusted Locksmith in the 5 Boroughs
We know the scams as well as the tarnished reputation the locksmith industry has received over the years, especially in New York City. M&D Locks and Keys has been an outspoken proponent of stricter locksmith laws and regulations. Never trust a locksmith that shows up in an unmarked vehicle and especially one that cannot produce a valid locksmith license.
We know trust is important. Our goal is to make you so satisfied with our services that you'll not only write a good review for us in Google and Yelp, but that you'll add our telephone number to your mobile device should you need us in the future.
We're contributing members of the New York community and are here to stay. We have two shops in Brooklyn and mobile units that patrol areas throughout the city. We're trusted by the NYPD, New York City Sheriff, the US Marines and countless New York businesses such as Armani, Sleepy's New York, Geico, the New York State Retirement System, Ted Baker Manhattan, Brookdale Residence and PM Pediatrics of Brooklyn as well as many others.